Career Opportunity af USAID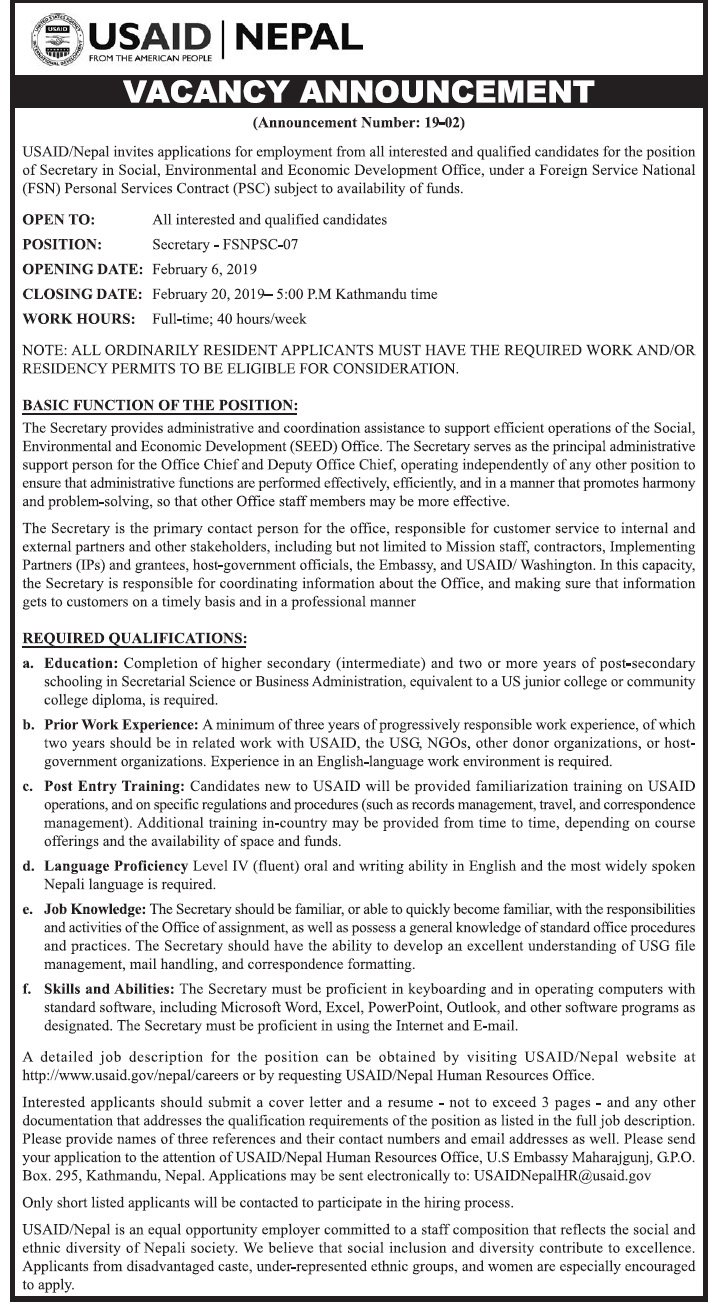 USAID/Nepal invites applications for employment from all interested and qualified candidates for the position of Secretary in Social, Environmental and Economic Development Office, under a Foreign Service National (ESN) Personal Services Contract (PSC) subject to availability of funds.
OPEN TO:
All interested and qualified candidates
POSITION: Secretary - FSNPSC-07
OPENING DATE:
February 6, 2019
CLOSING DATE:
February 20, 2019— 5:00 P.M Kathmandu time WORK HOURS: Full-time; 40 hours/week
NOTE:
ALL ORDINARILY RESIDENT APPLICANTS MUST HAVE THE REQUIRED WORK AND/OR RESIDENCY PERMITS TO BE ELIGIBLE FOR CONSIDERATION.
BASIC FUNCTION OF THE POSITION:
The Secretary provides administrative and coordination assistance to support the efficient operations of the Social, Environmental and Economic Development (SEED) Office. The Secretary serves as the principal administrative support person for the Office Chief and Deputy Office Chief, operating independently of any other position to ensure that administrative functions are performed effectively, efficiently, and in a manner that promotes harmony and problem-solving, so that other Office staff members may be more effective.
The Secretary is the primary contact person for the office, responsible for customer service to internal and external partners and other stakeholders, including but not limited to Mission staff, contractors, Implementing Partners (IPs) and grantees, host-government officials, the Embassy, and USAID/ Washington. In this capacity, the Secretary is responsible for coordinating information about the Office and making sure that information gets to customers on a timely basis and in a professional manner
REQUIRED QUALIFICATIONS:
Education: Completion of higher secondary (intermediate) and two or more years of post-secondary schooling in Secretarial Science or Business Administration, equivalent to a US junior college or community college diploma, is required.
Prior Work Experience: A minimum of three years of progressively responsible work experience, of which two years should be in related work with USAID, the USG, NGOs, other donor organizations, or host-government organizations. Experience in an English-language work environment is required.

Post Entry Training:

Candidates new to USAID will be provided familiarization training on USAID operations, and on specific regulations and procedures (such as records management, travel, and correspondence management). Additional training in-country may be provided from time to time, depending on course offerings and the availability of space and funds.

Language Proficiency

Level IV (fluent) oral and writing ability in English and the most widely spoken the Nepali language is required.

Job Knowledge:

The Secretary should be familiar, or able to quickly become familiar, with the responsibilities and activities of the Office of assignment, as well as possess a general knowledge of standard office procedures and practices. The Secretary should have the ability to develop an excellent understanding of USG file management, mail handling, and correspondence formatting.

Skills and Abilities:

The Secretary must be proficient in keyboarding and in operating computers with standard software, including Microsoft Word, Excel, PowerPoint, Outlook, and other software programs as The Secretary must be proficient in using the Internet and E-mail.
A detailed job description for the position can be obtained by visiting the USAID/Nepal website at
http://www.usaid.gov/nepal/careers
or by requesting the USAID/Nepal Human Resources Office.
Interested applicants should submit a cover letter and a resume - not to exceed 3 pages - and any other documentation that addresses the qualification requirements of the position as listed in the full job description. Please provide names of three references and their contact numbers and email addresses as well. Please send your application to the attention of USAID/Nepal Human Resources Office, U.S Embassy Maharajgunj, G.P.O. Box. 295, Kathmandu, Nepal. Applications may be sent electronically to
USAIDNepalHR@usaid.gov
.
Only shortlisted applicants will be contacted to participate in the hiring process.
USAID/Nepal is an equal opportunity employer committed to a staff composition that reflects the social and ethnic diversity of Nepali society. We believe that social inclusion and diversity contribute to excellence. Applicants from disadvantaged caste, under-represented ethnic groups, and women are especially encouraged to apply.