Career Opportunity at VSO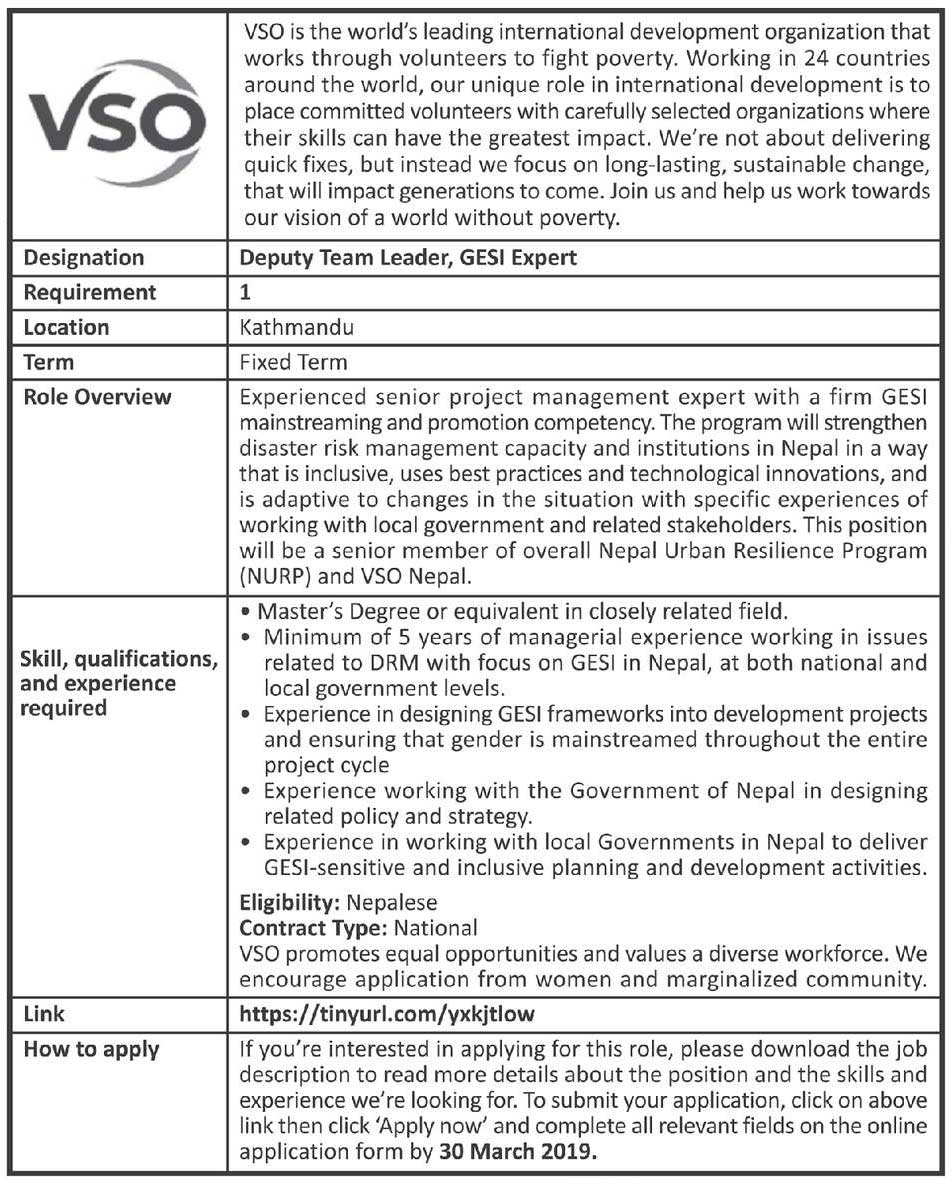 VSO is the world's leading international development organization that works through volunteers to fight poverty. Working in 24 countries re around the world, our unique role in international development is to place committed volunteers with carefully selected organizations where their skills can have the greatest impact. We're not about delivering quick fixes, but instead, we focus on long-lasting, sustainable change, that will impact generations to come. Join us and help us work towards our vision of a world without poverty.
Deputy Team Leader, GESI Expert

Kathmandu

Fixed Term

Experienced senior project management expert with a firm GESI mainstreaming and promotion competency. The program will strengthen disaster risk management capacity and institutions in Nepal in a way that is inclusive, uses best practices and technological innovations, and is adaptive to changes in the situation with specific experiences of working with local government and related stakeholders. This position will be a senior member of the overall Nepal Urban Resilience Program (NURP) and VSO Nepal.

Skill, qualifications,

and experience required

Master's Degree or equivalent in closely related field.
Minimum of 5 years of managerial experience working in issues related to DRM with focus on GESI in Nepal, at both national and local government levels.
Experience in designing GESI frameworks into development projects and ensuring that gender is mainstreamed throughout the entire project cycle
Experience working with the Government of Nepal in designing related policy and strategy.
Experience in working with local Governments in Nepal to deliver GESI-sensitive and inclusive planning and development activities.

VSO promotes equal opportunities and values a diverse workforce. We encourage application from women and marginalized community.

If you're interested in applying for this role, please download the job description to read more details about the position and the skills and experience we're looking for. To submit your application, click on the above link then click 'Apply now' and complete all relevant fields on the online application form by

30 March 2019.